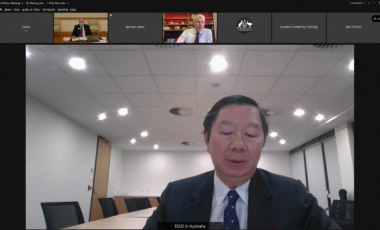 Taiwan to prosecute case to join CPTPP
Media Release Published by the Trade Sub-Committee of the Joint Standing Committee on Foreign Affairs, Defence and Trade The representative of the Taipei Economic and Cultural Office in Australia will appear at an Australian parliamentary…
Read More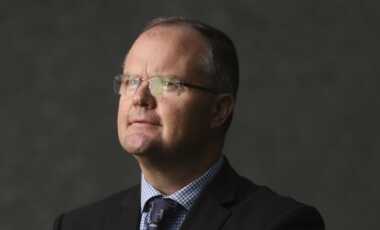 China lobbies MPs to back its bid to join free trade pact
Published by Andrew Tillet, Financial Review The Chinese government has taken the rare step of writing to a parliamentary inquiry arguing why it should be allowed to join the Trans-Pacific Partnership free trade deal, while…
Read More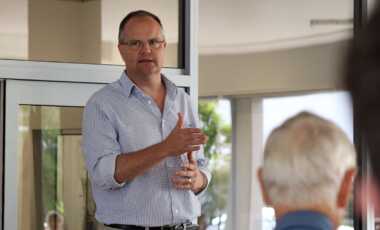 QLD key to Olympics and NRL boost to sports diplomacy with nearest neighbours
Article published by Matthew Killoran from the Courier Supporting a Pacific Islands NRL team and getting the region more closely associated with the 2032 Southeast Queensland Olympic Games should be part of a bid to…
Read More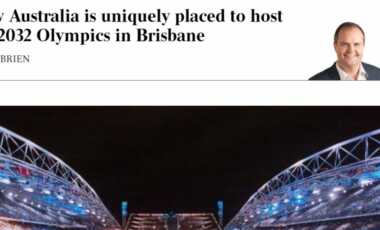 WHY AUSTRALIA IS UNIQUELY POSITIONED TO HOST THE 2032 OLYMPICS
Ted O'Brien MP, Federal Member for Fairfax and the Prime Minister's representative on the South East Queensland 2032 Olympic bid committee, explains why Australia is uniquely placed to host the Olympic and Paralympic Games. Read…
Read More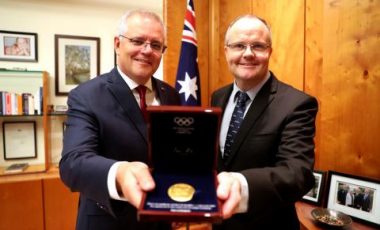 2032 OLYMPIC GAMES BID PASSES ANOTHER TEST
The IOC Executive Board has recommended that the bib by South East Queensland to host the 2032 Olympic Games and Paralympics to to a final vote of its members at the IOC Session in Japan…
Read More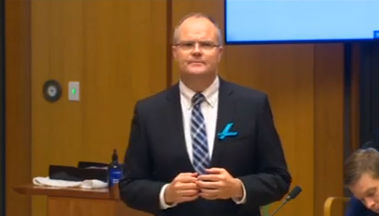 TED O'BRIEN INSTRUMENTAL IN SECURING CONTRACTS INQUIRY
After receiving feedback from Sunshine Coast businesses in the construction industry about foreign multinational ('tier one') securing the lion's share of big government contracts, Ted O'Brien MP, Federal Member for Fairfax, called for a parliamentary inquiry…
Read More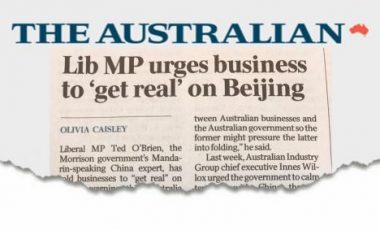 TED O'BRIEN URGES BUSINESSES TO 'GET REAL' ON CHINA
In an address to the Australian Institute of International Affairs, Ted O'Brien MP, Federal Member for Fairfax, warned that Australia needs to limit Beijing's ability to use liberal values 'against us'. Click HERE to read more.
Read More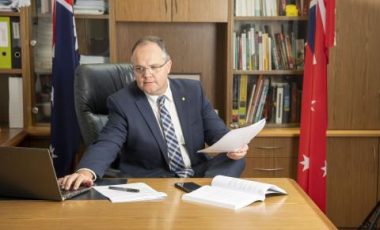 CONSULTATION OPEN FOR ROYAL COMMISSION
CONSULTATION OPEN FOR DEFENCE AND VETERAN SUICIDE ROYAL COMMISSION Veterans and their families, ex-service organisations, states and territories, peak bodies and other interested stakeholders are being encouraged to provide their input for the Terms of…
Read More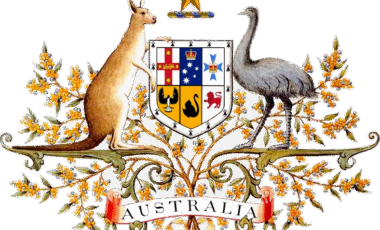 COMMITTEE TO INQUIRE INTO CLIMATE CHANGE BILLS
13/11/2020 - 17:33 The House of Representatives Standing Committee on the Environment and Energy has today called for submissions for an inquiry into two climate change Bills, sponsored by Ms Zali Steggall OAM MP. Chair of…
Read More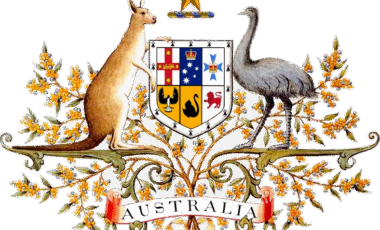 ROOM FOR MORE IN THE TRANS-PACIFIC PARTNERSHIP?
13/11/2020 - 17:22 A new parliamentary inquiry will look into the merits of expanding the membership of the Trans-Pacific Partnership trade agreement. Chair of the Trade Sub-Committee of the Joint Foreign Affairs, Defence and Trade…
Read More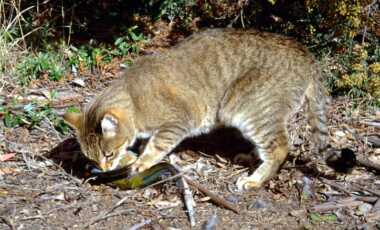 COMMITTEE TO ROAM INTO THE PROBLEM OF FERAL CATS
The House of Representatives Standing Committee on the Environment and Energy is holding the opening public hearings this week for its inquiry into the problem of feral and domestic cats in Australia. Committee Chair Mr Ted O'Brien…
Read More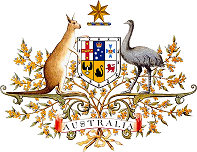 Committee sinks claws into the problem of feral and domestic cats in Australia
House of Representatives Standing Committee on the Environment and Energy Inquiry into the problem of feral and domestic cats in Australia Issue date: 23 June 2020 Committee sinks claws into the problem of feral…
Read More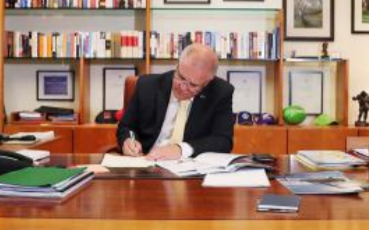 Restrictions on social gatherings – announcement of 22 March
An announcement from the Prime Minister, 22 March: Australian governments are focused on working together to slow the spread of coronavirus (COVID-19) to save lives. Every extra bit of time allows us to better prepare…
Read More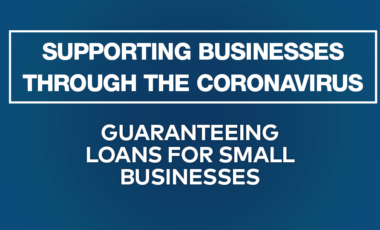 FURTHER SUPPORT FOR FAMILIES, WORKERS AND BUSINESSES ON THE SUNSHINE COAST
On 22 March, the Prime Minister and Treasurer announced a further $66.1 billion economic support package to support businesses and individuals through the economic impacts of the coronavirus. The Morrison Government has released the second…
Read More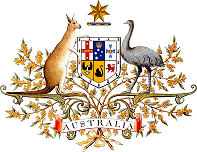 Environment and Energy Committee to inquire into emissions reporting bill
The House of Representatives Standing Committee on the Environment and Energy yesterday called for submissions on the National Greenhouse and Energy Reporting Amendment (Transparency in Carbon Emissions Accounting) Bill 2020. The Bill was referred…
Read More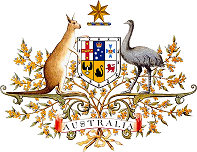 Bushfire Inquiry to give way to royal commission
Following the Government's announcement of a National Royal Commission into the 'black summer' bushfires, the House of Representatives Standing Committee on the Environment and Energy will not proceed further with its Parliamentary inquiry into land…
Read More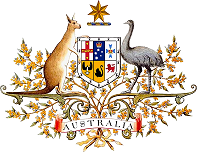 HAVE YOUR SAY ON THE LAND MANAGEMENT INQUIRY – submission deadline extended
***THIS INQUIRY HAS CONCLUDED TO MAKE WAY FOR THE ROYAL COMMISSION INTO THE 'BLACK SUMMER' BUSHFIRES*** The House of Representatives Standing Committee on the Environment has extended the submission deadline for its inquiry into the…
Read More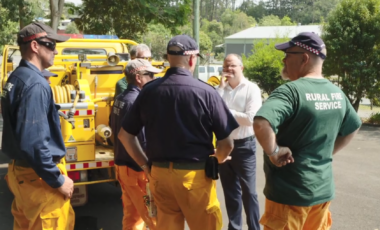 Standing Committee on Environment & Energy – inquiry into the efficacy of past and current vegetation and land management policy, practice and legislation and their effect on the intensity and frequency of bushfires
***THIS INQUIRY HAS CONCLUDED TO MAKE WAY FOR THE ROYAL COMMISSION INTO THE 'BLACK SUMMER' BUSHFIRES*** Have your say on the LAND MANAGEMENT inquiry Issue date: 12 December 2019 Local farmers, firies and community members…
Read More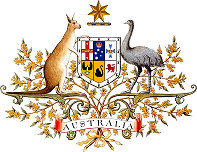 Activating trade and investment for a win-win in the Pacific
Issue date: Tuesday, 3 December 2019 The Parliament's Foreign Affairs, Defence and Trade Committee has launched a new inquiry into activating trade and investment between Australia and Pacific island countries. Chair of the…
Read More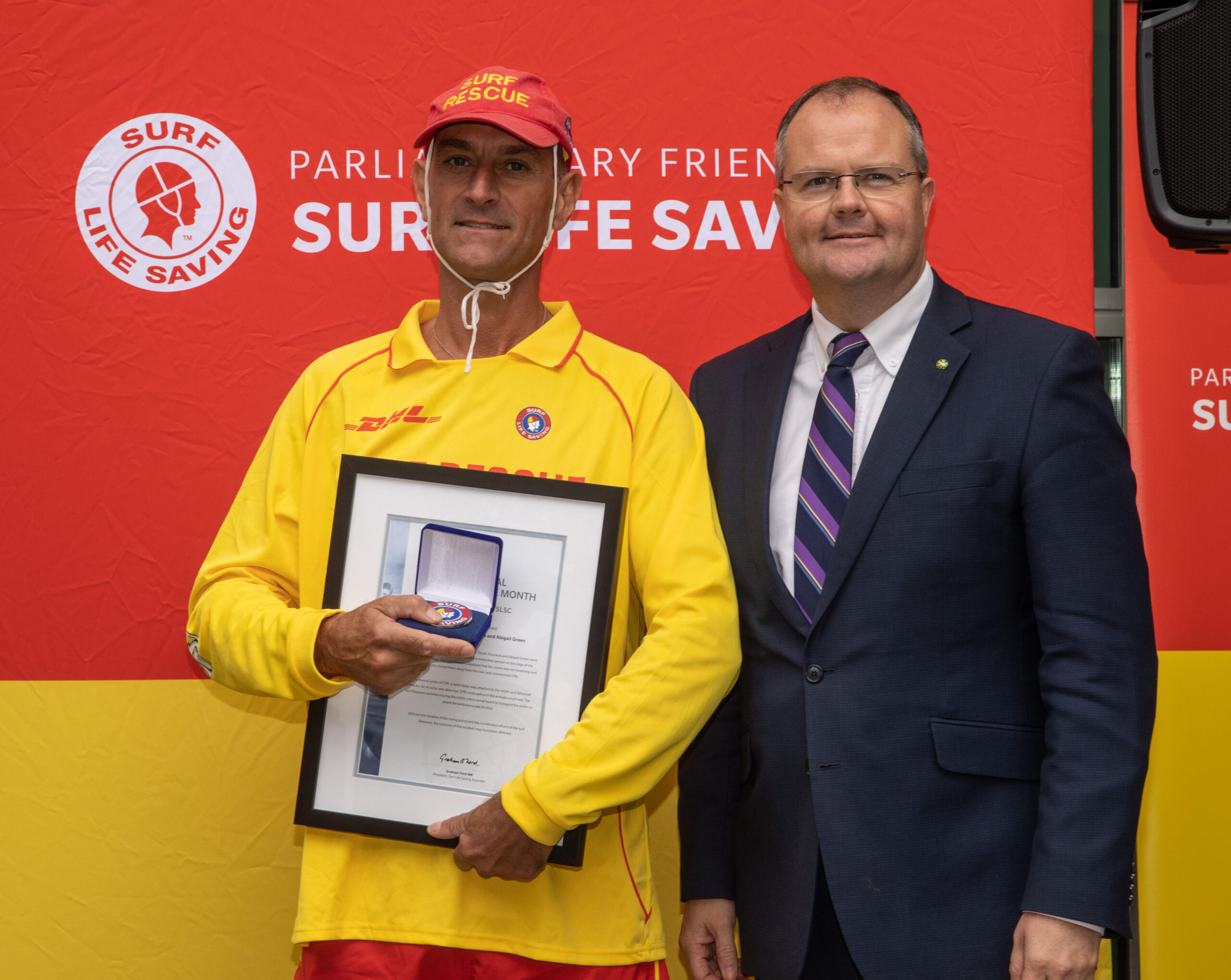 Maroochydore surf club members receive National Rescue Medal
Beach safety was the topic of discussion at the Prime Minister's sausage sizzle at Parliament House, attended by surf lifesavers and members of parliament yesterday. Marking the start of summer, the Prime Minister acknowledged Surf…
Read More