The Sunshine Coast is set to be one of the nation's biggest beneficiaries of the 2022/23 Federal Budget with measures to assist residents with immediate challenges and major investments to build the region's future.
Federal Member for Fairfax Ted O'Brien said: "It's like this year's budget was custom made for the Sunshine Coast."
The centrepiece of the Federal Budget from the Sunshine Coast's perspective was a whopping $1.6 billion to build a new heavy passenger rail line between Beerwah and Maroochydore along the CAMCOS corridor.
"This is the single largest transport infrastructure project in this year's budget and it's earmarked for the Sunshine Coast," said Mr O'Brien.
"This is about more than connectivity. It will also alleviate population growth pressures in our region by shifting housing density around new stations, it will get people out of cars and onto trains, and it will help activate Australia's newest greenfield CBD.
"This is the most transformative project the Sunshine Coast will see in generations."
"While our rail commitment is a huge investment in our region's future, the budget also offers immediate support for Sunshine Coast residents," Mr O'Brien said.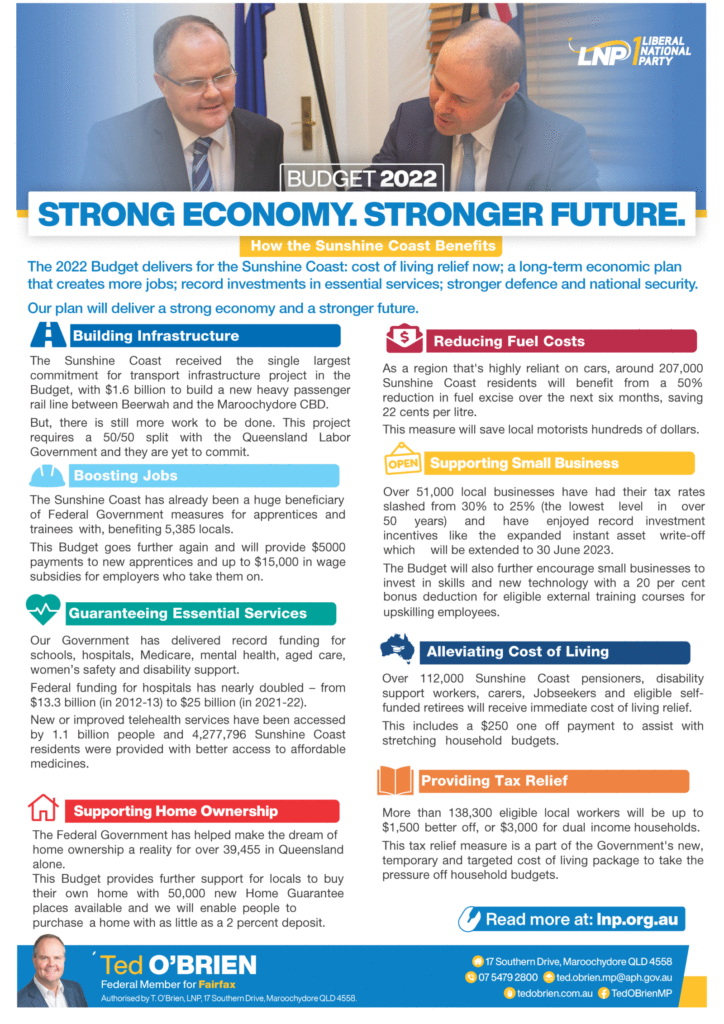 As part of the Budget 2022‑23 Budget, the Government is:
Providing cost of living relief
"The Government is introducing a new temporary, targeted and responsible cost of living package to take the pressure off household budgets," Mr O'Brien said.
One-off Cost of Living Tax Offset – From 1 July this year, more than 10 million individuals will receive a one-off $420 cost of living tax offset. As a result, eligible low- and middle-income earners will be up to $1,500 better off for a single income household, or $3,000 better off for dual income household. This will benefit up to 138,300 Sunshine Coast residents.
One-off Cost of Living Payment – To help Australians most in need the Government is providing a one-off, income-tax-exempt payment of $250 to 6 million eligible pensioners, welfare recipients, veterans and eligible concession card holders in April 2022. This is set to support 112,955 people in need.
Temporary fuel excise relief – The Government will reduce fuel excise by 50 per cent for 6 months. This will see excise on petrol and diesel cut from 44.2 cents per litre to 22.1 cents per litre. The reduction in excise will flow through to lower petrol prices over the next two weeks, as petrol stations replenish their stocks. Over 207,000 motorists are set to benefit at the bowser.
Delivering more Jobs
"The Government is investing in measures to expand and upskill the workforce to secure the workers we need now and for the future," said Mr O'Brien.
The Government is transforming the Sunshine Coast's manufacturing sector and building resilient supply chains with a $33.4 million investment into the Turbine manufacturing facility.
We have also committed $2.8 billion to support Australian apprenticeships, building on the support already provided for up to 5,385 apprenticeships and trainees on the Sunshine Coast in recent years.
The Government has committed $3.7 billion in Commonwealth funding for a new skills agreement, which has the capacity to deliver up to 800,000 additional training places for Australians.
Backing small businesses
"Small businesses will have access to a new 20 per cent bonus deduction for eligible external training courses for upskilling employees," said Mr O'Brien.
The Skills and Training Boost will apply to expenditure incurred from Budget night until 30 June 2024, providing $550 million in tax relief;
The Government is also providing $1 billion for a new Technology Investment Boost to encourage small businesses to go digital which will support the Sunshine Coast's 51,600 small businesses;
Small businesses will be able to deduct a bonus 20 per cent of the cost of expenses and depreciating assets that support digital uptake; and
Expenditure of up to $100,000 per year will be supported by this new measure, which applies from Budget night until 30 June 2023.


Investing in essential services
"A strong economy enables the Government to guarantee the essential services Australians rely on." Mr O'Brien said.
"Since coming to office, we have delivered record levels of funding for health, aged care, education and disability support."
The Government has allocated $6 billion for the COVID-19 Health response, which includes support for the Governments' Winter Response Plan to prepare for the next wave of COVID‑19 and influenza.
$3.0 billion over five years for cheaper medicines to support a healthier Australia;
$1.3 billion to support delivery of the next National Plan to End Violence against Women and Children 2022-32; and
$165.0 million for wellbeing programs and $104.2 million for health services to support veterans and families.


Keeping Australians Safe
"We are living in a time of uncertainty: the pandemic, the invasion of Ukraine and extreme weather events have and continue to cause enormous disruption," said Mr O'Brien.
To keep Australians safe the Government will:
increase the Australian Defence Force by up to 18,500 by 2040;
provide $9.9 billion over 10 years to significantly enhance Australia's offensive and defensive cyber and intelligence capabilities; and
support households and businesses impacted by recent floods in parts of Queensland and New South Wales, with over $6 billion expected to be spent.
Helping more Australians with home ownership
"HomeBuidler, the First Home Super Saver Scheme and the Home Guarantee Scheme have helped make the dream of home ownership a reality for over 39,455 Queenslanders," said Mr O'Brien.
160,000 Australians have purchased their first home over the last year, many with the help of the Morrison Government.
That's why we're more than doubling the Home Guarantee Scheme to 50,000 places per year.
This will help more single parents to buy a home with a deposit as low as 2 per cent and help more first home buyers to buy a home with a deposit as low as 5 per cent.


Caring for Older Australians
Funding for aged care has doubled since the Coalition came to government. In last year's Budget, the Government outlined a new 5-year $17.7 billion plan for the sector which will benefit the 59,796 seniors living on the Sunshine Coast.
This included new home care packages, respite services, training places, retention bonuses and infrastructure upgrades.
Under this plan, 40,000 home care packages, 34,000 additional training places, 7,000 new personal care workers and 8,400 respite services will be rolled out this calendar year.
In this Budget, we're providing more than $340 million to embed pharmacy services within residential aged care facilities to improve medication management for the elderly.


Protecting our Environment
"The Morrison Government is safeguarding Australia's unique environment for future generations," said Mr O. In this Budget, we are investing:
A further $636 million to expand the Indigenous Rangers Program, with more than 1,000 new rangers to undertake land and sea management.
We're going further in protecting the Great Barrier Reef, with an additional $1 billion investment in world-leading marine science.
More than $800 million to enhance our scientific capability in the Antarctic, funding vital research and environmental management.
More than $170 million for threatened species and habitat restoration, including for our koalas.
We are also continuing to invest in ways to reduce waste through our Recycling Modernisation Fund, saving 10 million tonnes of recyclables from landfill every year by 2030.
No longer is Australia exporting waste, we are recycling it here at home and creating over 10,000 jobs in the process.
"This year's Federal Budget delivers the largest improvement to the bottom line in over 70 years and with unemployment at a 48 year low of 4%, our economic recovery leads the world.
"The budget reflects a strong economy and that's what we need to build an even stronger future," said Ted O'Brien