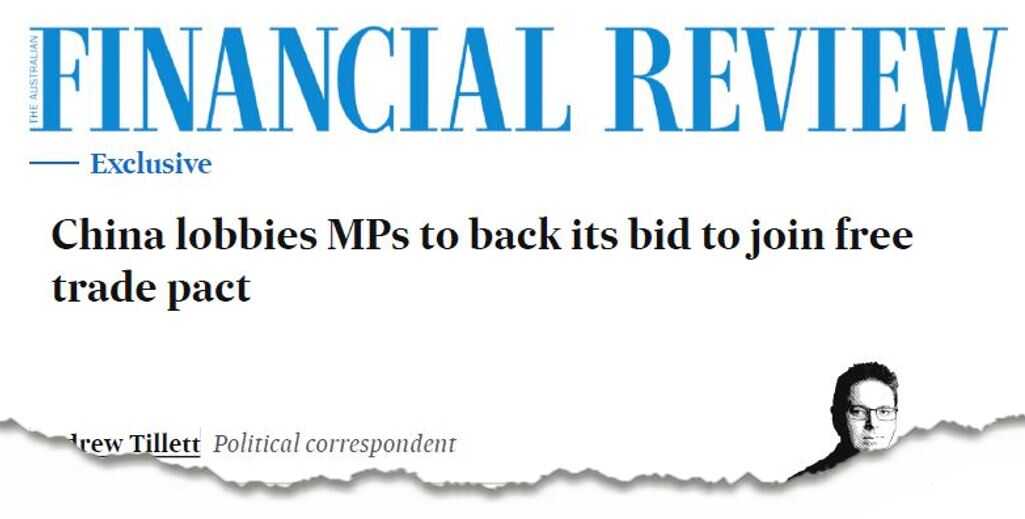 Published by Andrew Tillet, Financial Review
The Chinese government has taken the rare step of writing to a parliamentary inquiry arguing why it should be allowed to join the Trans-Pacific Partnership free trade deal, while emphasising Australia remained an important economic partner.
Despite Beijing targeting more than $20 billion of Australian exports with trade sanctions, the Chinese embassy in Canberra said China remained committed to trade liberalisation and tariff reductions.
For Australia, the Comprehensive and Progressive Agreement for Trans-Pacific Partnership, or CPTPP, is worth $US23 billion ($31 billion) annually in extra exports. China's submission claims its membership would lift this to $US36 billion.
"Since the outbreak of the COVID-19 pandemic, there is a growing concern across the world on protectionism," the embassy's submission said.
"The signing of the Regional Comprehensive Economic Partnership and the expansion of the CPTPP would demonstrate Asia-Pacific countries' confidence in supporting free trade and regional economic integration, herald stronger steps to be taken toward Free Trade Agreement Asia Pacific (FTAAP), and bring a positive impact on the multilateral trading system centred on the World Trade Organisation."
Most of the submissions to the inquiry into expanding membership of the CPTPP come from organisations and businesses aligned with Taiwan, setting up a potential collision course with China's ambitions. Current members are Australia, Canada, Japan, Mexico, New Zealand, Singapore, Vietnam, Brunei, Chile, Peru and Malaysia.
Former prime minister Tony Abbott, an unpaid trade adviser to the British government, told the committee that allowing Britain to join the CPTPP would unite four of the Five Eyes members in an economic agreement and could be a "circuit breaker" for the US to rejoin the pact.
"With a deteriorating security situation, and with serious armed conflict in our region no longer merely hypothetical, anything that again brings Britain's attention "east of Suez" is very much in Australia's national interest," he said.
Welcome overtures
China's overtures to Australian MPs come as a working paper by the Australia-China Relations Institute finds that Beijing's sanctions against Australian commodities such as seafood, timber, wine, barley and coal have caused only limited economic damage.
For nine of the 12 commodities targeted, the costs incurred have been less than 10 per cent of total export value.
"The findings show that many business owners were able to secure premium prices in [China] for an extended period, and when this opportunity closed, they quickly and successfully pivoted to alternative markets," the paper said.
"Market access is revealed to be a weak coercive tool for Beijing. This means what the PRC may hope to achieve by disrupting trade is not the same as what it is likely to achieve."
Beijing has sought to punish Australia over policy decisions, although this week claimed Australia was trying to coerce it after Treasurer Josh Frydenberg urged exporters to diversify their markets.
China's submission to the parliamentary inquiry makes no mention of the trade disputes.
Rather, the submission highlights how the two countries' free trade deal had been a milestone and created "favourable conditions for deepening, broadening and improving our bilateral economic relationship".
"China and Australia have always been important trade and investment partners of each other," the submission said.
In a shot at China's trade sanctions, the Australia-Taiwan Business Council said Taiwan's membership would "help to alleviate the difficult trading conditions in key established markets presently affecting Australian exporters".
"Taiwan's membership of the CPTPP would offer significant trade opportunities for Australia by expanding access to an established export market where Australia does not have a trade agreement," the council said.
Inquiry chairman Ted O'Brien said foreign governments' interest in joining the CPTPP reflected the importance of free trade agreements and a desire to be inside major trading blocs.
"Nations' desire to join the CPTPP may be driven by geostrategic interests as much as economic ones, but what's most important to us is maximising our own national interests," he said.
"It's notable that the Chinese government made a submission, especially given everything else that's going on in the relationship, and their contribution is welcome."
"We have received an overwhelming number of submissions in favour of Taiwan joining the agreement too, which is understandable given we don't have an Australia-Taiwan free trade agreement despite being major trading partners.
"As always, the parliamentary committee will weigh up the evidence in a dispassionately independent fashion before making recommendations to government."