A 3.4m cenotaph will soon adorn Bli Bli's Avenue of Honour thanks to a $109,680 Federal Government grant announced by Federal Member for Fairfax, Ted O'Brien.
Ted O'Brien said the new cenotaph will be a regionally significant monument which will support the community to commemorate the service and sacrifices of Australian servicemen and women.
"I am proud to deliver $109,680 to build this cenotaph, which will provide a fitting monument for locals to pay tribute to those who have given so much for our great nation," Mr O'Brien said.
"The new Cenotaph will become the new focal point of Bli Bli's Avenue of Honour to commemorate Australia's involvement in 14 conflicts and 12 peace keeping missions.
"The monument will be a timeless reminder that the exploits of our Australian Veterans have not only made this Nation a better place but have contributed to the peace and security of nations across the globe."
The Sunshine Coast and Regional District RSL Branch, the recipient of the grant, has engaged local architect and sculptor Cam Crossley to design and build the contemporary cenotaph.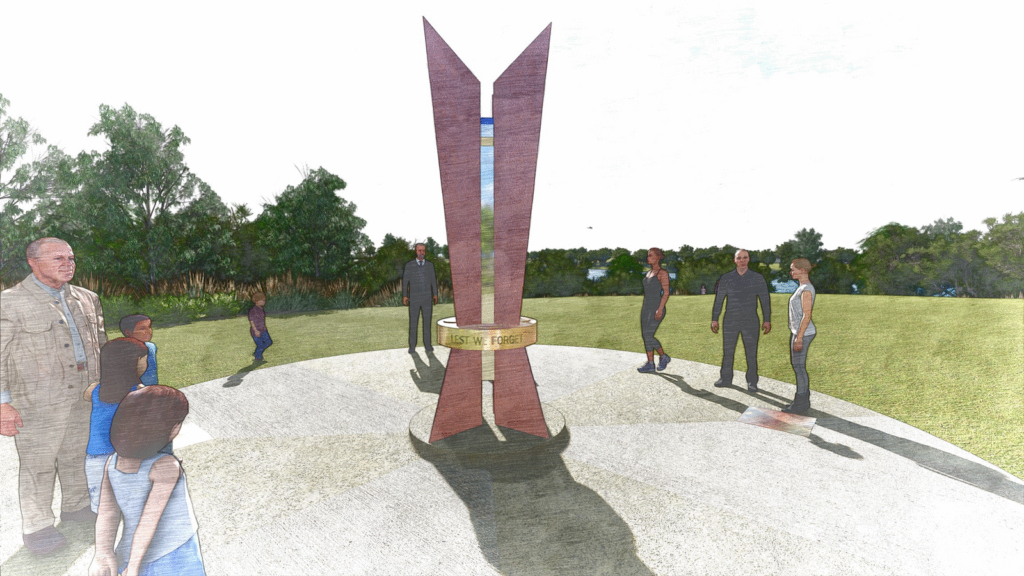 Mr Crossley was also tasked with designing and building the recently completed eternal flame in Cotton Tree.
District President of the Sunshine Coast and Regional District RSL Branch Ian Hall, said he was thrilled to hear the good news.
"This cenotaph will complement the Avenue of Honour here at Bli Bli in Park Lakes and will ensure that the sacrifices of our veterans made in the service of their country are remembered by the Bli Bli community and the 17,000 ex-defence personnel now residing here," Mr Hall said.
"The new cenotaph will be the centre of celebrations for veterans, past members of the defence forces and members of the Bli Bli community including children to conduct ceremonies on Anzac Day, Remembrance Day and other Commemorative days."
"We are truly remembering them."
The Avenue of Honour comprises 26 fig trees and honours those who fought for Australia and those who took part in peacekeeping events throughout history.
The first 14 trees represent significant conflicts where Australians have fought or provided support and the remaining 12 trees represent countries where Australian forces have been involved in peacekeeping missions.

Each event is identified with a brass plaque fixed to a boulder at the base of a Moreton Bay fig tree.

This local project is one of 129 that have been funded through the latest round of Saluting Their Service grants, with applications covering a wide range of ideas to honour the sacrifice of our nation's servicemen and women.
The Saluting Their Service grants program ensures Australia's wartime history is preserved and the sacrifice of those who have served during wars, conflicts and peace operations is remembered.