'Sunshine Coast 2032' is under new leadership today, after Federal Member for Fairfax Ted O'Brien officially passed the baton to well-known business and community leader Roz White.
Sunshine Coast 2032 is a community driven initiative founded by Ted O'Brien which aims to maximise the opportunities in the lead up, during and after the Brisbane 2032 Olympic and Paralympic Games.
Roz White will be joined by two-time Olympic swimmer Duncan Armstrong OAM and four-time Paralympic swimmer Brendan Burkett OAM as Deputy leads of the Taskforce bringing a wealth of sporting experience to the group.  
Standing on the proposed route of the 2032 Olympic Cycling event at Alex Headland, Ted O'Brien said he was proud to announce such a talented and experienced leadership team.
"Roz White knows all about leadership," said Mr O'Brien. "Roz's extraordinary business acumen is equally matched by her demonstrable love of community, and that's what makes her the perfect person to lead Sunshine Coast 2032 as its inaugural Chair.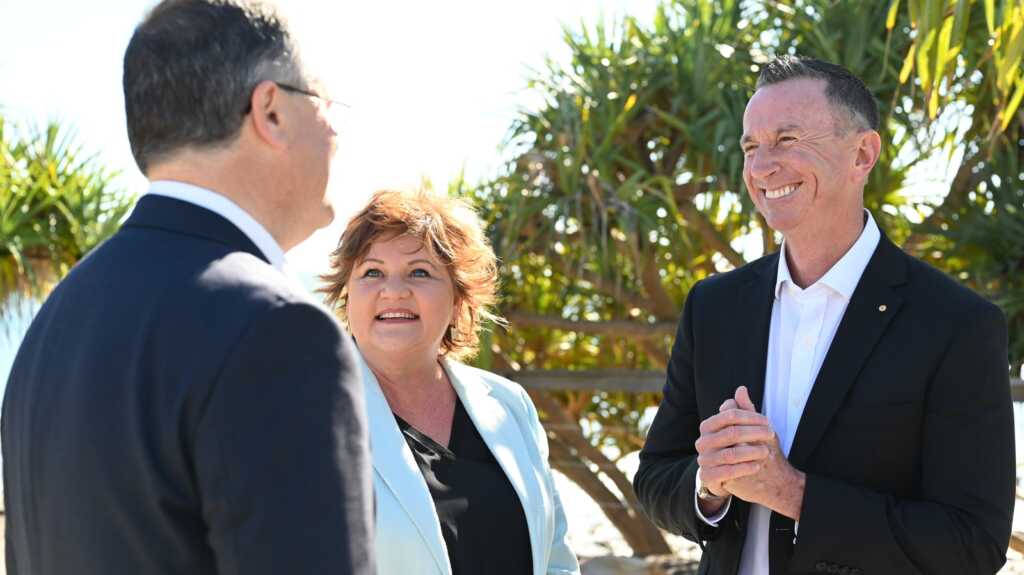 "Flanked by Olympic champion Duncan Armstrong and Paralympic legend Brendan Burkett, this leadership team also brings first-hand knowledge about what the Games are all about."
"I led the establishment of Sunshine Coast 2032 with the intention of it being a community owned organisation and it's with great confidence that I pass the baton to Roz, Duncan and Brendan to now take it forward."
The announcement comes as 2032 Games organisers prepare to officially begin the 10-year green and gold countdown before South-East Queensland officially hosts the 2032 Olympic and Paralympic Games.
New Chair of the Sunshine Coast 2032 and Co-owner of White's IGA, Roz White, said she was looking forward to working with the community to make the most of this once in a life-time opportunity.
"The 2032 Olympic and Paralympic Games is an exciting event with an opportunity to showcase our magnificent region to the world," Roz White said.
"Sunshine Coast 2032 will connect our community at a grassroots level to bring them on the journey and explore how we can optimise the opportunities an event like this brings."
With a hard-earnt gold and silver medal to his name from the 1988 Olympic Games in Seoul, Duncan Armstrong says he knows first-hand the huge opportunities on offer for the Sunshine Coast to connect, engage, take part and gain access to this once in a lifetime opportunity.
"The Olympic Games have been a major part of my life as an athlete, in the media and representing Australia's Olympic corporate partners," Mr Armstrong said.
"I have seen first-hand how the Games can make a huge difference to all parts of the communities that stage them."
"Only by Sunshine Coasters getting involved will the 2032 Olympic and Paralympic Games be a success, with the benefits to live on well after the Games are finished."
"I believe the Sunshine Coast 2032 taskforce will be our community's voice to translate how they are going to take part in the Games and how the Sunshine Coast region will forever change the Olympic movement."
Sunshine Coast 2032 will consist of an overarching leadership group and six committees filled by local heavyweights from all sectors of the community to enable wide ongoing engagement.
Administrative support will be provided by Regional Development Australia Sunshine Coast which has played an instrumental role in bringing Sunshine Coast 2032 together.
Committees will include:
Sport and Recreation
Business and Tourism
Community and Volunteers
Environment and Sustainability
Arts and Culture
Infrastructure
All members of Sunshine Coast 2032 are voluntary and unpaid positions and have been selected through an independent process managed by RDASC with the support of a local recruitment firm.
The remainder of the board of directors will be announced in the coming weeks as well as the remaining positions of the six committees and the six community consultancy groups.   
Brendan Burkett is currently in Birmingham for the Commonwealth Games as the Head Coach for the Paralympic Swim Team and is unavailable for comment.
Additional Information:
The purpose of Sunshine Coast 2032, formerly known as the 2032 Taskforce, is to ensure the Sunshine Coast and Noosa region maximises opportunities in the lead up to, during and after, the Brisbane 2032 Olympic and Paralympic Games.
Sunshine Coast 2032 aims to:
Engaging with, and giving voice to, the local community on a broad range of issues that will affect them as a result of the Brisbane 2032 Games – from sport, community and infrastructure to social and economic issues – to qualifying ideas, projects and programs identified by organisations and individuals and advocating on behalf of local businesses, community organisations and residents;
Engaging all three tiers of government, the Brisbane Operating Organising Committee for the Olympic Games (BOCOG) and other organisations to identify opportunities across a range of areas – from business procurement to sport training and camps – with a view to becoming a conduit for sharing information with, and providing support to, local businesses, community and sporting organisations in the lead up to the Games;
Collaborating with all three tiers of governments, the BOCOG and other organisations such as sport to help deliver community-led initiatives, programs and events across a selected range of activities including auditing facilities, attracting investment, regional branding and marketing; and
Managing and delivering 2032 Taskforce initiatives, programs and events including providing a concierge service for enquiries, organising 'welcome' events, organising volunteers and related services.
*** To find out more, visit www.2032taskforce-sunshinecoast.com.au
CONTACT: Mitch Bland 0401 257 064