Member for Fairfax, Ted O'Brien has unveiled his vision of an iconic entertainment centre in the Maroochydore CBD as a potential legacy of the 2032 Olympic and Paralympic Games.  
"This is a once in a lifetime opportunity," said Ted O'Brien. "We're set to host the world's biggest event and so it's time to be bold and think big."
A new facility has been earmarked for the Sunshine Coast to host preliminary basketball at the 2032 Games, and Ted O'Brien is proposing it be built in the Maroochydore CBD as part of a multi-purpose entertainment centre.
"My vision is for the Maroochydore CBD to host the region's most iconic building – a multi-purpose entertainment centre that can be used for major sporting events, performing arts, conventions, exhibitions and possibly even eSports," Mr O'Brien said.
"We've secured the 2032 Games and we can't undersell ourselves, but we have to smart.
"When future generations assess the legacy of the 2032 Games, I don't want them pointing to a fancy shed with basketball courts as the greatest legacy our region was able to deliver.
"Catering for basketball is vitally important, but let's go for something truly compelling and to my mind that's an iconic entertainment centre in the new CBD."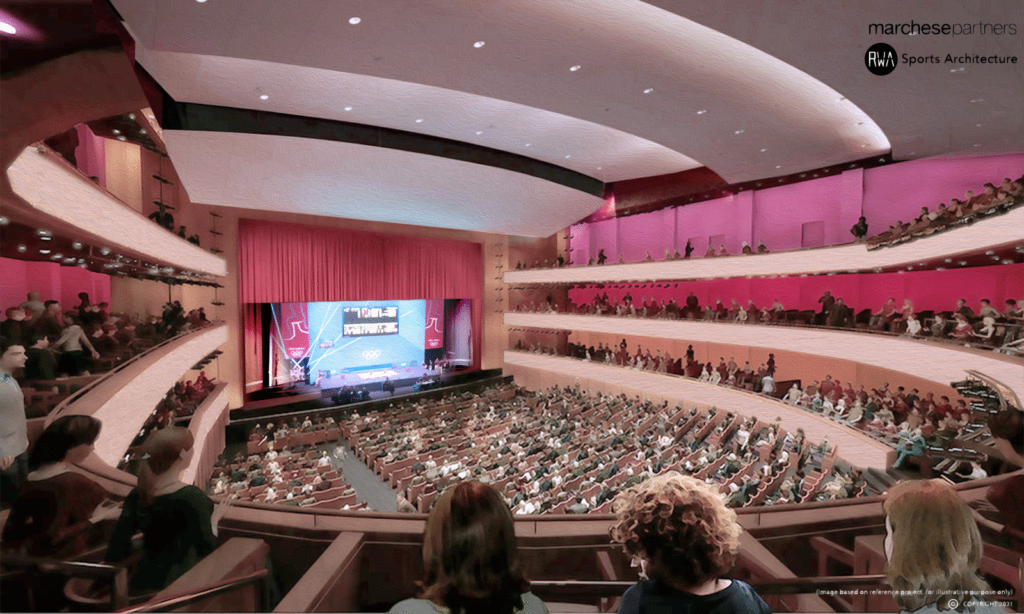 Global architecture firms have taken Ted O'Brien's vision and sought to bring it to life through conceptual drawings presented to key industry and business leaders at an event today, held in the Maroochydore CBD.
Marchese Partners and RWA Sports Architects bring significant sports, entertainment and mixed-use expertise, including experience in designing Olympic venues.
Principal of Marchese Partners, Frank Ehrenberg said that a major entertainment centre in the Maroochydore CBD would provide incredible value to the region.
"Such a venue would create a legacy and add significant value to the community and its people while contextually responding to the region," Mr Ehrenberg said.
"We came up with a concept that would provide an entertainment facility to accommodate international standard performing arts such as opera, ballet, musicals, and theatre as well as a range of other activities."
"Further to this, the venue would include flexible spaces to be adopted for the Olympics including a basketball arena which could accommodate up to 6,000 people."
Ted O'Brien went on to say that this vision for the Maroochydore CBD was part of a broader plan to attract private capital and seek more public funding for transport infrastructure.
"If preliminary basketball for the 2032 Games were held in the Maroochydore CBD, it would strengthen the case for bringing heavy rail from Brisbane all the way to Maroochydore.
"I know these ideas are big and bold, and securing funding will be really tough, but we have a window of opportunity to go for it.
"By unveiling this vision today, I hope to trigger a conversation about the 'art of the possible' and encourage others to start thinking about possible legacies of the 2032 Games.