Members of all three tiers of Government have thrown their support behind a bold vision to secure a Sunshine Coast Entertainment Centre in the Maroochydore CBD.
A visual concept of the proposed venue was unveiled last week by the Federal Member for Fairfax, Ted O'Brien who is advocating to leverage the 2032 Olympic and Paralympic Games to secure State and Federal funding the venue.
State Member for Maroochydore Fiona Simpson MP and Division 4 Councillor Joe Natoli, long time advocates for a major performing arts and convention facility, have publicly backed Mr O'Brien's proposal.
The proposal would see the venue host the Olympic Basketball preliminaries which are earmarked in the 2032 Olympic and Paralympic Games masterplan.
This would enable the proposed venue to unlock significant funding through the State and Federal Government's 50-50 agreement on critical Games infrastructure.
Shadow Minister for Olympic and Paralympic Infrastructure and Jobs, Fiona Simpson MP said that a long-awaited multipurpose entertainment facility to host basketball preliminaries for the Olympic and Paralympic games is key to stage one of the centre getting off the ground.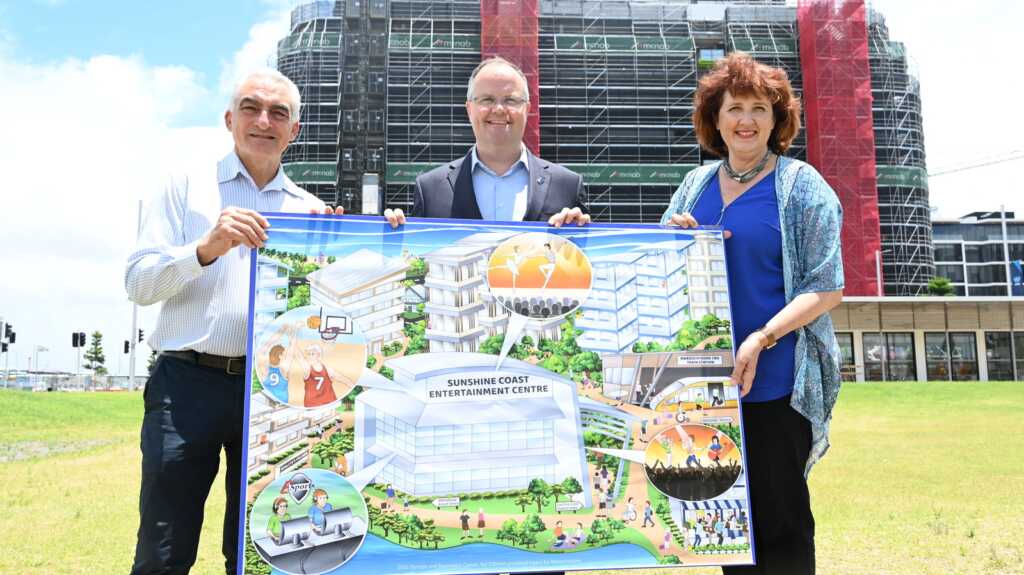 "It would not just be great for jobs in the short and long-term for the region but would also improve liveability and opportunities.
"The 2032 Games are our chance to ensure that right legacy infrastructure for the Sunshine Coast is built now," Ms Simpson said.
"This potential venue would be important not only to service the needs of the Olympics and Paralympics, but even better it will enable us to secure a performing arts and convention centre here in Maroochydore CBD."
Conceptual designs for the possible venue, which is being proposed to host preliminary basketball at the 2032 Games, were shared last week with key community and business leaders.
Ted O'Brien's vision for the venue were brought to life by global architecture firms Marchese Partners and RWA Sports Architecture.
Plans outlined the potential venue's ability to host major sporting events, exhibitions as well as world-class performing arts and theatre.
Councillor Natoli said that it was important that all three levels of Government work together towards a clear vision for the legacy projects they want for the Sunshine Coast community.
"The Olympics presents us with a once in a lifetime opportunity," Mr Natoli said.
"We have to put whatever differences there are between levels of government aside for the greater good.
"If we don't come together, if we don't have a crystalised vision and we don't have unity then we are going to miss out."
Federal Member for Fairfax and Special Envoy for the 2032 Olympic and Paralympic Games, Ted O'Brien welcomed support from his state and local government counterparts.
"If we are serious about leveraging the 2032 Games to secure a lasting legacy for the Sunshine Coast, then we need unity," Mr O'Brien said.
"That's why I am so grateful for the support of Fiona Simpson MP and Cr Joe Natoli whose actions will give the community confidence that this simple but powerful vision is within reach."
"It's now up to us as a region to come together and secure the future we deserve."
MEDIA CONTACT: Mitch Bland 0401 257 064