A world-first manufacturing facility, which will transform the Sunshine Coast's food and beverage sector, will be operational by late 2023 following a $33.4 million announcement by the Federal Government today.
The $112.8 million 'Turbine Precinct' will be a mega 20,000 m2 purpose built, collaborative food and beverage manufacturing centre located at the Sunshine Coast Airport.
The precinct will be home to local food and beverage companies that will be able to utilise shared warehousing and logistics, an education and training centre, advanced research and development capabilities as well as a collaborative high-tech manufacturing facility.
The state-of-the-art facility will house end-to-end support for local food and beverage businesses and includes a unique common-use infrastructure model.
Federal Member for Fairfax, Ted O'Brien said the massive federal funding boost will not only enable the project to get off the ground but become a catalyst for further industry investment.
"This massive investment will transform the local food and beverage sector and will create a stronger future for the Sunshine Coast – built on a stronger economy," Mr O'Brien said.
"This end-to-end collaborative food and beverage precinct is a world-first, and it will provide lucrative opportunities for businesses at all stages and all sizes to build, scale and export, all under one roof."
"But it's not just business that benefits," Mr O'Brien suggested. "This will create lifelong careers for local people."
"From food technologists to designers and engineers, the TURBINE Precinct will create hundreds of highly skilled careers for locals within an industry where the Sunshine Coast will be among the best in the world."
"The Turbine Precinct will reinvent how business is done on the Sunshine Coast for the food and beverage sector but will also create limitless opportunities for local producers and services to plug in and leverage across the economy."
By having all the facilities under one roof, it will help drive the competitiveness of local companies by collaborating together and building further capability. Once complete, it will be Australia's leading industry-based food and beverage research and commercialisation facility.
By teaming up with the University of the Sunshine Coast, the precinct's first-of-its-kind embedded training centre will also help the next generation take the next step to their future roles in areas such food science, transport & logistics, and hospitality.
It's expected the project will see 131 new jobs during construction and support 687 once operational with $200 million in economic benefits delivered for the Australian economy each year.
With strong support from key stakeholders, the Food and Agribusiness Network (FAN) have led the project locally in partnership with the Queensland Drinks Accelerator, the Sunshine Coast Airport and other project partners including Lyre's Spirit co, Doehler, the University of the Sunshine Coast and TAFE Queensland.
CEO of FAN, and Director for Turbine Emma Greenhatch said the Federal Government's investment would immediately unlock over $58 million in private investment to develop stage one of the project.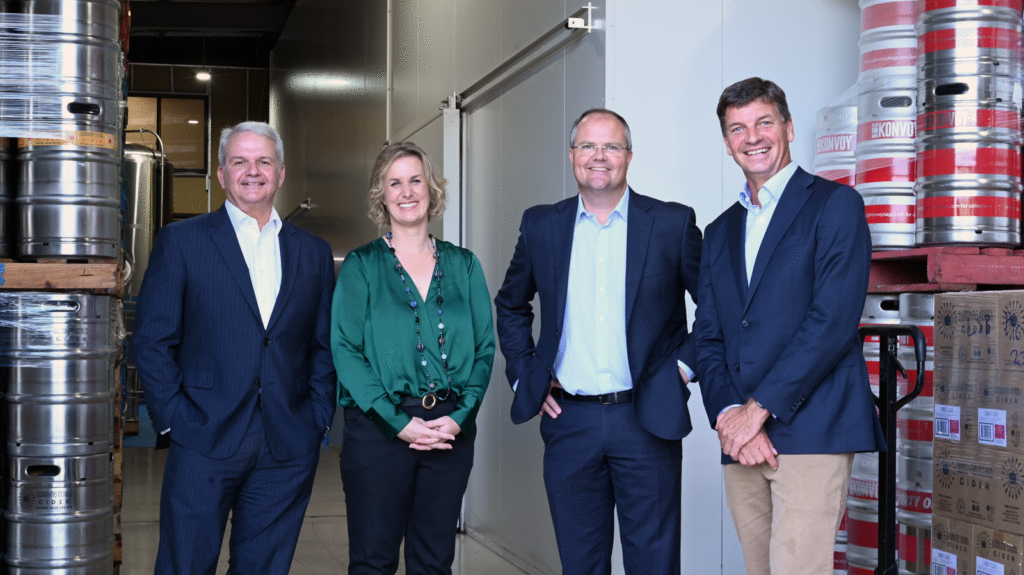 "The Australian Government's investment in this catalytic project will enable us to create a new, smarter way of supporting our industries into the future – through sharing infrastructure and critical services that will promote collaboration and in turn drive new innovation," Ms Greenhatch said.
"87% of Australia's food and agribusiness industry are SMEs.
"Turbine will change the way we support these businesses to innovate and scale, through its advanced manufacturing capability and embedded services including R&D and education and training.
"In addition to enabling co-located manufacturers to scale faster by significantly reducing establishment and operating costs, Turbine will provide a streamlined pathway to commercialisation for other food and beverage businesses from across Queensland and beyond, from start-ups through to export."
A component of the project's value proposition which has already attracted major private investment, is the precinct's unique location at the Sunshine Coast Airport which will leverage new export opportunities arising from the expanded international runway.
Funding for the Turbine Collaborative Food and Beverage Manufacturing Precinct was secured under the Collaboration Stream of the Morrison Government's Modern Manufacturing Initiative.
The Modern Manufacturing Initiative is a key part of the Morrison Government's plan for a stronger economy and a stronger future for our country.