On 25 January 2021, the Hon Greg Hunt MP, Minister for Health, announced that the Therapeutic Goods Administration (TGA) had provisionally approved the Pfizer/BioNTech COVID-19 vaccine for use in Australia. The TGA's provisional approval of the Oxford/AstraZeneca COVID-19 vaccine followed on 16 February 2021.
On 15 February 2021, more than 142,000 doses of the Pfizer/BioNTech COVID-19 vaccine arrived at Sydney airport. This is the first shipment of Pfizer vaccines from the 20 million doses secured as part of Australia's COVID-19 Vaccine and Treatment Strategy.
Australia's vaccine rollout strategy commenced on Monday 22 February 2021.
My office has been receiving numerous calls and emails seeking further information about Australia's COVID-19 vaccines and roll-out strategy.
Below serves to answer the most common questions and provide links for further details.
What kinds of vaccines have been developed for COVID-19
Messenger RNA (mRNA) vaccines use genetic code (RNA) to instruct production of the specific spike protein of the COVID-19 virus. Once the mRNA enters the body's cells, the cells use the genetic code to produce the spike protein. Immune cells recognise the spike protein as foreign.
This triggers an immune response through production of T cells and B cells (which make antibodies), preparing the immune system to fight the coronavirus if it later infects the body. The genetic material from the vaccine does not change or become part of the recipient's genetic material.
Protein subunit vaccines use a non-infectious component of the coronavirus, the spike protein on the surface of the virus, manufactured in a laboratory. When the vaccine enters the body, immune
cells recognise the spike protein as foreign. This triggers an immune response through production of T cells and B cells (which make antibodies), preparing the immune system to fight the coronavirus if it later infects the body.
Vector vaccines use a harmless, weakened animal virus that contain the genetic code for a protein unique to COVID-19, also known as a viral vector. Once the viral vector enters the body, the genetic material instructs the cells to make a protein that is unique to the virus that causes COVID-19. Using these instructions, our cells make copies of the protein. This triggers an immune response through production of T cells and B cells (which make antibodies), preparing the immune system to fight the coronavirus if it later infects the body.
How COVID-19 vaccines are being tested
Before a vaccine is registered for use, it is tested extensively during development and then in thousands of people. Testing first begins with laboratory research, then animal studies and finally human clinical trials.
Clinical trials involve testing the vaccine in volunteers, and are conducted in phases:
Phase 1 clinical trials usually include a few dozen healthy adult volunteers and focus primarily on establishing that the vaccine is safe, and also on demonstrating that the vaccine induces an immune response.
Phase 2 clinical trials have hundreds of volunteers, and can include groups for whom the new vaccine is intended, for example, older adults, children or people with pre-existing medical conditions. These trials aim to show the vaccine induces an immune response and confirm that it is safe with acceptable side effects.
Phase 3 clinical trials include many thousands of participants and aim to show that a it is effective in preventing people from getting the disease – in this case COVID-19. Phase 3 trials also thoroughly assess the vaccine for safety and side effects. In a Phase 3 trial, researchers usually compare vaccinated people with people who received a placebo (like a salt water injection). They compare the rate of disease, disease severity and reported side effects between the two groups.
For COVID-19 vaccines, some of these phases have been combined. For example, in Phase 1/2 trials, results are analysed after the first few dozen volunteers are studied, then the trial proceeds in hundreds more. Some Phase 3 studies have started once preliminary data from phase 1/2 trials are available. Having these 'overlapping' time frames has helped develop COVID-19 vaccines quickly, to make them available earlier to save lives.
We will still need other COVID-19 prevention measures like physical distancing while vaccines are being rolled out Once a safe and effective vaccine is available in Australia, this will only be one part of keeping the
community safe and healthy. It will be important for Australians to continue to practise good hygiene and physical distancing during the rollout.
Everyone still needs to:
1. wash your hands as often as possible
2. keep your distance where you can
3. stay at home if you feel sick and get tested
4. download the COVIDSafe app.
How people will be able to access the vaccine
COVID-19 vaccines are free for all Australian citizens, permanent residents and most visa-holders as per the Australian COVID-19 Vaccination Policy. The COVID-19 Vaccines National Roll-out Strategy details the phases in which vaccines will be made available. See below: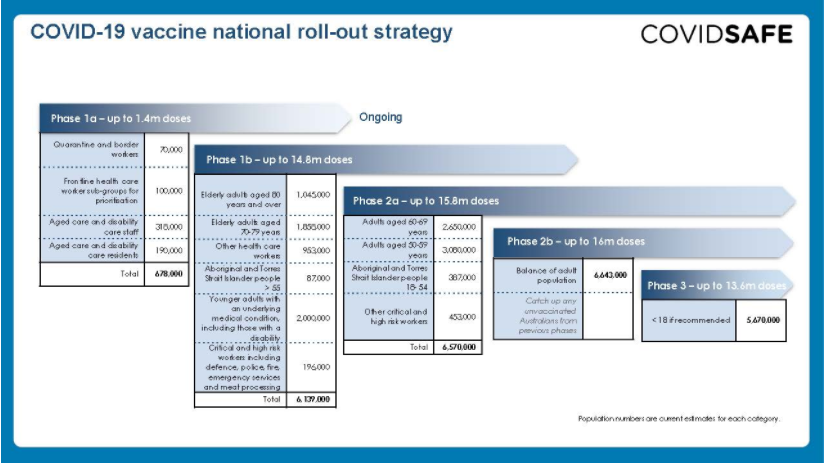 Doses are now available for Phase 1a priority populations in 30-50 hospital hubs in urban and rural locations around Australia. These hubs will manage the Pfizer vaccine only due to specialised storage and handling requirements. Distribution to aged care and disability care facilities will be made through a Commonwealth vaccination workforce. Those eligible for phase 1a are being contacted directly.
From Phase 1b, Pfizer vaccination hubs will continue and doses of the AstraZeneca/Oxford vaccine will be made available at GP respiratory clinics, General Practices that meet specific requirements, Aboriginal Controlled Community Health Services, and state-run vaccination clinics.
From Phase 2, some workplace vaccination sites will be added and the vaccination will also be available at community pharmacies that meet specific requirements. As more information on how to access vaccines becomes available it will be provided at health.gov.au/covid19-vaccines.

Why COVID-19 are vaccines being developed so quickly
Hundreds of millions of people are suffering from the ongoing social and economic devastation caused by the pandemic. The urgency of this crisis means that all available resources and efforts are being directed towards finding an effective vaccine.
Australia undertakes its own regulatory process to ensure the safety and effectiveness of the vaccines. Australia will not be cutting any corners in the approval process and testing of the vaccine batches as they are produced and distributed.
Developing and licensing a vaccine has in the past taken a decade or longer, but some COVID-19 vaccines may be registered and used within 12–18 months of the virus being discovered.
Some of the reasons behind this rapid progress include:
Unprecedented funding and collaboration between vaccine developers and governments around the world. Financial risks have been taken, such as building manufacturing facilities before a vaccine is even available.
Technology has evolved to make vaccine development faster than in the past. Vaccine development requires an understanding of the virus's genetic code. New technologies allowed researchers to rapidly identify the genetic code of the COVID-19 virus, soon after the virus emerged. This allowed scientists around the world to start work in building vaccines.
Clinical trials progress more quickly if a disease is widespread, as is the case with COVID-19 in many countries, as a significant difference between the unvaccinated and vaccinated groups can be detected sooner than for a rare disease.
COVID-19 vaccines are voluntary
Australians have a great record in being immunised. The COVID-19 vaccine is voluntary, universal and free. The Government aims to have as many Australians as possible choose to be vaccinated for COVID-19.
If people choose not to have a COVID-19 vaccine, this will not affect their family's eligibility for Family Tax Benefit Part A or childcare fee assistance which only includes National Immunisation Program vaccines for those aged <20 years.
It is possible that in future, vaccination against COVID-19 might become a requirement for travel to certain destinations or for people working in certain high-risk workplaces. If this becomes the case, there will be exemptions in place for people who are unable to be vaccinated.

Likely side effects from COVID-19 vaccines
All medicines, including vaccines, have risks and benefits. Usually any side effects are mild and temporary. Clinical trials of COVID-19 vaccines have reported temporary side effects typical of vaccines, such as pain at the injection site, fever or muscle aches.

How herd immunity relates to the COVID-19 vaccination program
Herd immunity occurs when enough people are vaccinated to prevent the disease easily moving from person to person. Eventually, most of the population may be able to be protected from a particular disease if the vaccine is sufficiently protective and enough people in the population are vaccinated. Achieving herd immunity usually requires a large proportion of the population to be vaccinated. The exact proportion that will need to be vaccinated to affect the spread of the SARSCoV-2 virus depends the characteristics of the vaccine (e.g. its ability to stop transmission, and duration of protection).

As we learn more about the characteristics of COVID-19 vaccines and how well they protect against the disease and spread of the virus, many studies will be done to monitor how much impact the vaccines have and whether herd immunity is being developed over time.

Where people can go for trusted information
For the latest up-to-date information about COVID-19 vaccines visit the Department of Health website at health.gov.au/covid19-vaccines. Regular updates can also be accessed on the Department of Health's social media channels on Facebook, Twitter, Linkedin, Instagram and Youtube.

Australia's Vaccine Agreements
In December 2020, Australia entered into four separate agreements for the supply of COVID-19 vaccines, if they prove to be safe and effective and are approved for use by the Therapeutic Goods Administration. Three agreements are for the supply of individual vaccine candidates, and one is to participate in an international initiative.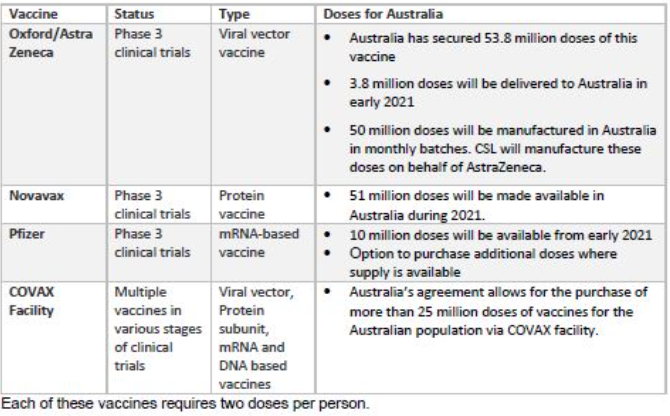 Australia's COVID-19 vaccine national roll-out strategy
Click below to download Australia's COVID-19 vaccine roll-out strategy.