Volunteer Grants inject $135,320 into local community groups.
The valuable work of local volunteers has been acknowledged by Federal Member for Fairfax, Ted O'Brien with $135,320 in Federal grants for local community groups.
Forty community groups in Fairfax have received grants of up to $5,000 each to support volunteer organisations to increase participation, promote awareness of volunteering opportunities and help purchase equipment and training resources.
Member for Fairfax, Ted O'Brien MP said that the grants recognised the crucial role volunteers play within our society, especially this year as we move forward out of the pandemic.
"We're fortunate to have such an incredible culture of volunteerism here on the Sunshine Coast," Mr O'Brien said.
"Whether it's providing meals to those in need, protecting lives along our coastline or training the next generation of sportspeople, the value of volunteering is immeasurable."
"I'm delighted to be supporting those people in our community who dedicate so much of their time and effort to helping others with $135,320 in funding."
These grants are part of the Morrison Government's $18 million 2021 Volunteer Grants program, which will support thousands of community organisations across the nation.
Lily House in Woombye, a crisis centre for women and their children in need, received $5,000 through the grant.
Business Manager at Lily House, Jo Higgins warmly welcomed the grant support.
"This grant grant is so important to Lily House and will enable us to update our ageing computer which is very old and does not run well making it hard to manage a range of tasks in this digital age," Ms Higgins said.
"We will also be able to use this funding to upskill and support our wonderful and appreciated volunteers."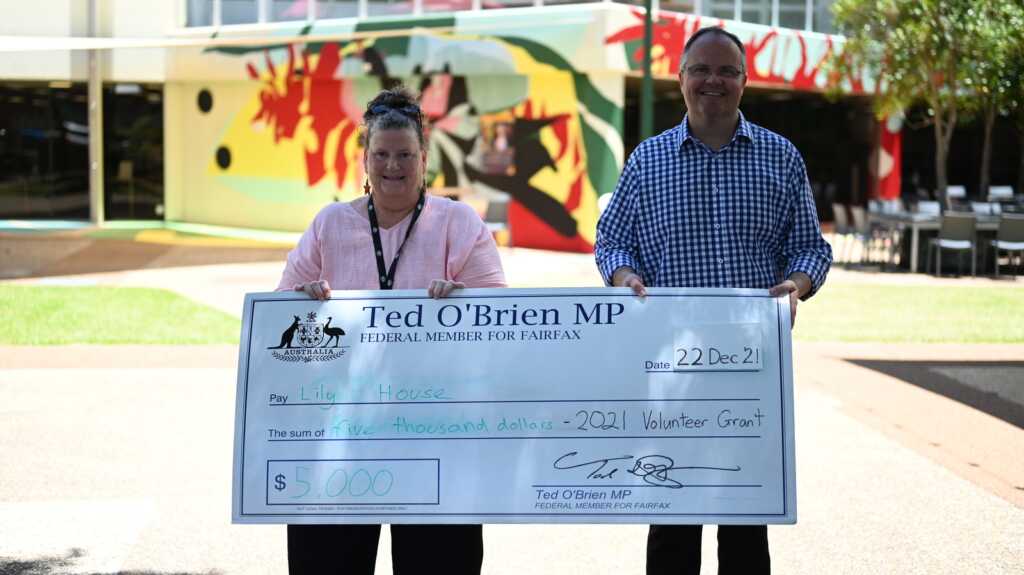 More than 8.7 million volunteers across the country freely give their time and skills to support others and contribute around $290 billion each year to Australia's economy.
Volunteering also plays an important role in Australia's social landscape as a proven pathway to get people into jobs, reduce marginalisation and increase community participation.
The 2021 Volunteer Grants provide organisations with grants of $1,000 to $5,000 to directly support their volunteers.